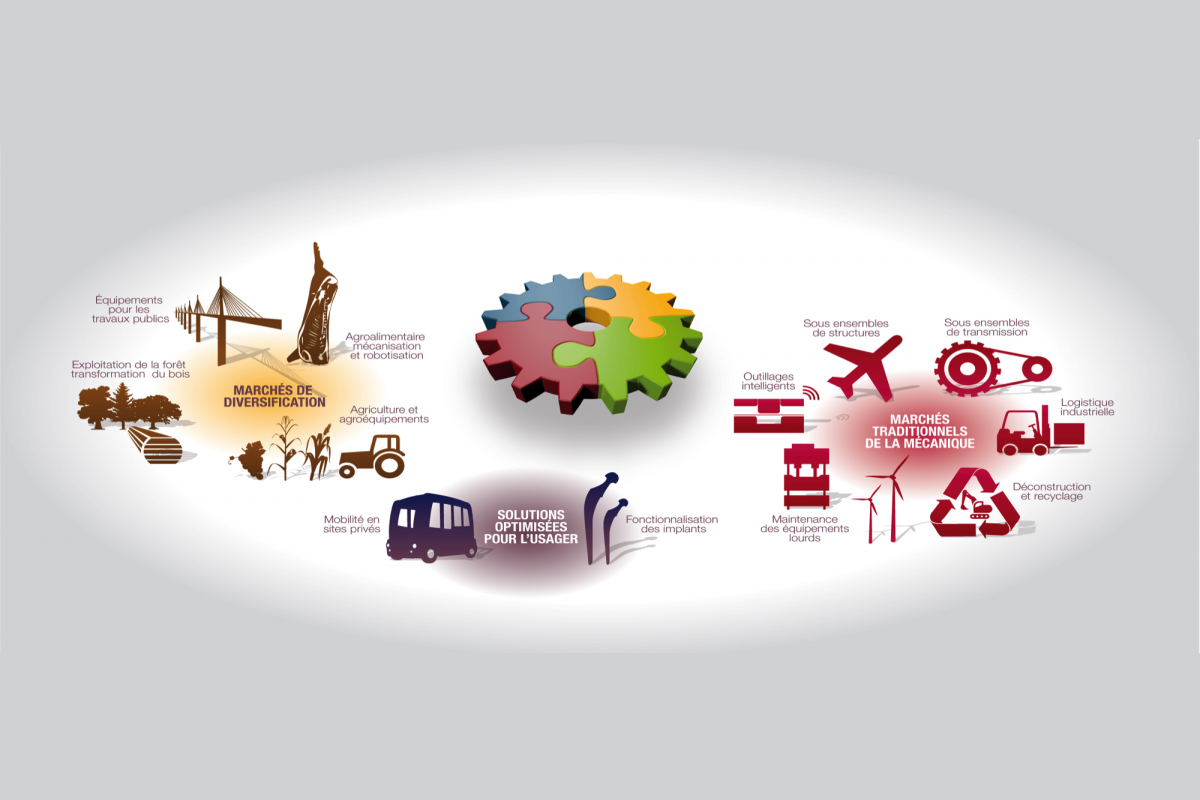 Boost collaborative innovation on "metal additive manufacturing"
in Auvergne-Rhône-Alpes
Initiative 3D is a networking of skills and means around metal additive manufacturing in the Auvergne Rhône-Alpes region. It federates technical centers and technological platforms (Cetim, CEA, IPC, CTIF, Manutech, ID Pro), higher education and research establishments (Mines St Etienne, Ecole Centrale de Lyon – ENISE, Grenoble INP, INSA Lyon, Sigma Clermont, ECAM Lyon) under the aegis of the competitiveness cluster (CIMES), representing in total more than 100 full-time equivalent positions. It benefits from the support of the Auvergne Rhône-Alpes region.
Based on the academic strengths and technical centers of the Auvergne Rhône-Alpes region, Initiative 3D prepares the future of additive manufacturing by conducting R&D work and investing in new equipment around priority areas.
Initiative 3D in key figures
→ The number of publications on AM (since the existence of the network): between 40 and 50 / year
→ Volume of R&D committed to FA Metal over the past 5 years: 40M€ over the last 5 years
→ Number of PhDs in progress in 2021: 30
→ The number of equipment:
• Manufacturing: 25 machines
• Characterization/control: more than 100 machines and equipment
• Number of people involved (including teacher-researchers): > 100 full-time positions
(and more if collaborators are included)
The network provides manufacturers with a set of additive manufacturing processes (powder fusion, wire fusion, fusionless technologies) backed by platforms dedicated to metal additive manufacturing, production of custom metal alloys, finishing techniques and metallurgical and properties characterization means, including significant expertise in 3D characterization. These different technological platforms thus cover the entire metal additive manufacturing value chain. Initiative 3D also offers continuous training on catalog or tailor-made training for companies. Finally, Initiative 3D contributes to the development of education centers focused on additive manufacturing, both at the technician and engineer level.

Its role within the ecosystem
→ Strengthen national synergies in metal additive manufacturing
→ Pool resources and research projects, both upstream and downstream for industrialization and faster transfer to French companies
→ Coordinate training in additive manufacturing
→ Organization of a national symposium every two years
→ Strengthen the visibility of French skills on these themes, at European and global levels